I'm proud to announce that I've joined forces with a group of very talented web developers in the Netherlands and Belgium: the Dutch Web Alliance.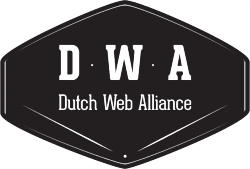 More information is available on our website, the full (dutch) press release is posted below:
APELDOORN: Freelance web developers bundelen krachten in de Dutch Web Alliance.
De Dutch Web Alliance (DWA) is een vereniging voor en door freelance
web developers uit Nederland en Belgie. Onze missie is om via kennisdeling, samenwerking en het combineren van resources, de positie van de freelancer en de kwaliteit van web professionals te verbeteren. Een lid van de DWA staat voor kennis en kunde op alle vlakken in web-ontwikkeling en kan zich als zodanig onderscheiden worden door klanten en opdrachtgevers.

De DWA richt zich niet op kwantiteit, maar op kwaliteit. Zo zijn het de leden onderling die bepalen of een nieuw lid ook daadwerkelijk kan toetreden tot de vereniging. Binnen de vereniging houden leden elkaar actief op de hoogte van alle laatste ontwikkelingen, bieden ze hulp en dienen ze als vraagbaak. Maar DWA leden springen ook graag bij andere leden in situaties zoals ziekte, deadlines, specifieke kennis. Zo krijgen afnemers van de DWA de flexibiliteit van freelancers, met de voordelen van full-service internet bureaus.

De DWA is meer dan alleen een keurmerk en kwaliteitswaarborg. Onze leden zijn voor het grootste deel actief in open source communities zoals PHP, dev/ops en system administration. Zij zijn dan ook vaak terug te vinden op nationale en internationale conferenties als spreker waarbij ze als experts en "leaders of the field", andere ontwikkelaars helpen met nieuwe technieken, best practices en algemene kennis die is opgedaan uit de vele complexe projecten waar ze dagelijks aan werken. De DWA draagt hier nog een extra steentje aan bij door het organiseren van workshops en meetups voor niet alleen ontwikkelaars, maar ook leidinggevenden, project managers en CTO's/CIO's. Kortom: onze vereniging zet zich in voor een beter, professioneler en efficiënter klimaat binnen de web-ontwikkeling.